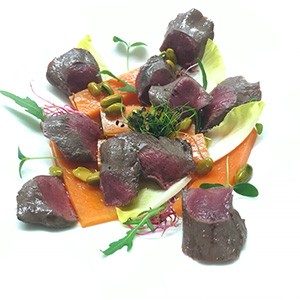 Saddle of veal steak from the wood fire grill with pink pepper-hollandaise Baked potatoes and vegetables
A delicious recipe for recooking from the Gasthof Bad Schwarzenberg in Gontenschwil:
Ingredients (for 4 people)
4 veal loin steaks à 200gr
salt, white ground pepper, sweet paprika
4 potatoes floury cooking (medium size)
Rosemary branch and olive oil
120 gr sour cream
10 gr chopped chives
Vegetables:
Arrange the vegetables as you like, e.g.
carrots, palatine carrots, courgettes, cauliflower and spinach
Steamed and seasoned with butter and spices, it is ready to serve.
Ingredients for the pink pepper-Hollandaise:
2 egg yolks
1 tbsp water
1 KL white wine vinegar
2 tbsp white wine
160 gr butter
salt, pepper, lemon juice, Worcestershiresauce
1 KL pink pepper
Preparation:
Bring veal loin steak to room temperature (leave in room covered for approx. 3 hours) before grilling season with salt, pepper and paprika. Wash the potatoes and wrap them in aluminium foil with a little olive oil, salt and rosemary. Bake at 180°C in the oven or grill for approx. 1 hour. (until the potatoes are soft). Season the sour cream with salt, pepper and chives and keep cool.
For the hollandaise, clarify the butter in a frying pan, may brown a little until it develops a nice nutty smell (nut butter) in a bowl and let cool down a little. Put egg yolk, water, white wine vinegar and white wine in a bowl and beat over the water bath until a creamy mass is obtained. Outside the water bath, add the nut butter to the egg yolk mixture, stirring constantly. Season the sauce to taste with the spices and finally add the mortar-dried pink peppercorns.
Grill the veal loin steaks for a while on a nice embers grill, it may be a little pink.
Serve:
Arrange the vegetables on the hot plate, cut the baked potatoes lengthwise with the foil, squeeze a little and fill with sour cream sauce. The hohrückensteaks are placed on the plates directly from the grill and served with the Rosapfeffer-Hollandaise.
The
Bad Schwarzenberg
in Gontenschwil serves
Nebbiolo D'Alba DOC
from the Deltetto Winery to go with this delicious dish. Fantastic aromas from red berries, herbs as well as dried roses. It titillates the palate with its soft and tangy tannins as well as a light note of liquorice. An elegant finish, rich in finesse.