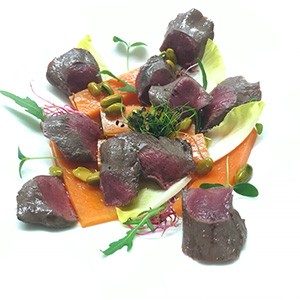 Artichokes Tarte
A delicious recipe for recooking from the restaurant
Giardino Romano
in Geneva:
Artichokes Tarte
Puff pastry:
200 g flour
120 g double cream
4-5 tb water
1 pinch of salt


Stuffing:
10 artichokes, cleaned and cut into thin strips
1 ognion
½ glass of water
1 glass of white wine
1 bunch of parsley
salt and pepper

2 eggs
2 dl milk
60 g Parmesan cheese
½ tb salt


Preparation:
Mix the flour with double cream add salt and water, knead to a smooth dough. Roll out the dough on a little flourand place and put it in the baking tin. Store in the fridge.

Chop the onions and stew them in a pan. Add the artichokes and stew it for a few minutes, then add water, white wine, salt and pepper. Let simmer for about 20 minutes, until the liquid is absorbed.

In the meantime prick the dough with a fork, cover it with baking paper and put on it with dry beans. Bake for 30 minutes in the oven (preaheated) at 190 °.

Remove the mold from the oven and remove the beans.


Finely chop the parsley and add to the artichokes. Mix eggs, milk and Permesan, salt and stir the mixture under the artichokes and spread on the pre-baked base.


Bake for another 20 minutes at 190° until the cake is golden brown.


Enjoy your meal!
The restaurant
Giardino Romano
in Geneva serves
Zibibbo IGP
from the
Curatolo Arini Winery
to go with this delicious dish. The nose and pallet are treated to the wonderful Mediterranean aromatic of citrus fruits, orange blossoms, sage, mint and acacias.