FINIFINI TRATTORIAITALIANA, Küsnacht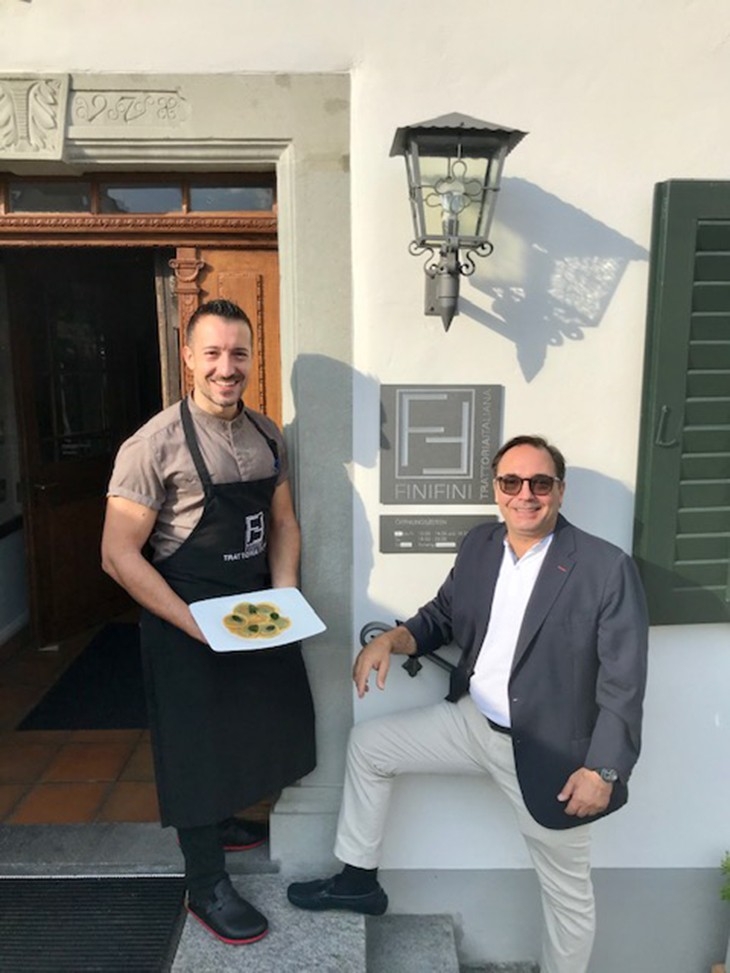 Ravioli alle erbette
A delicious recipe to recreate from the restaurant FINIFINI TRATTORIAITALIANA in Küsnacht.


For the pasta dough:
500 g flour 'type 00
500 g semolina
9 egg yolks
6 whole eggs
Mix flour and eggs in a bowl and knead into a smooth, pliable dough for approx. 15 min. Wrap the dough in cling film and place in the refrigerator for 1 hour.
For the filling:
250 g spinach leaves
250 g herbs
1 clove of garlic
100 g Parmesan cheese
150 g ricotta or mascarpone
1 egg yolk
salt & pepper
nutmeg
Wash the spinach leaves and heat them briefly in a little water and let them collapse. Then squeeze well and chop finely. Also wash the herbs, heat briefly and mix with the spinach. Add Parmesan, ricotta and egg yolk, mix again and season with salt, pepper and nutmeg.

Fill the ravioli
Roll out the dough thinly and cut out circles about 8 cm in size with a ravioli stamp (alternatively with a glass). Now place a teaspoon of the filling in the center of each cut out dough and cover with the other half of the dough. Press the edges well together so that nothing can ooze out during cooking.

Cooking
Let the finished ravioli soak briefly (approx. 3 min) in salted water.

Sage butter
Lightly brown the butter, then add the sage and finally lightly brown the ravioli in it.
Enjoy your meal!
To go with the ravioli al erbette, the FINIFINI TRATTORIAITALIANA in Küsnacht serves the Sauvignon Blanc Gmajne Collio DOC von Primosic aus Friaul.
Out tasting note
The Sauvignon Blanc Gmajne has a glowing straw-yellow colour with green reflections. Very complex with overwhelming aromas of gooseberries, passion fruits and elderberry blossoms. Full-bodied, crisp and elegant on the pallet. A proud origin of excellent quality with a lot of expression.