Restaurant Panorama, Aeschiried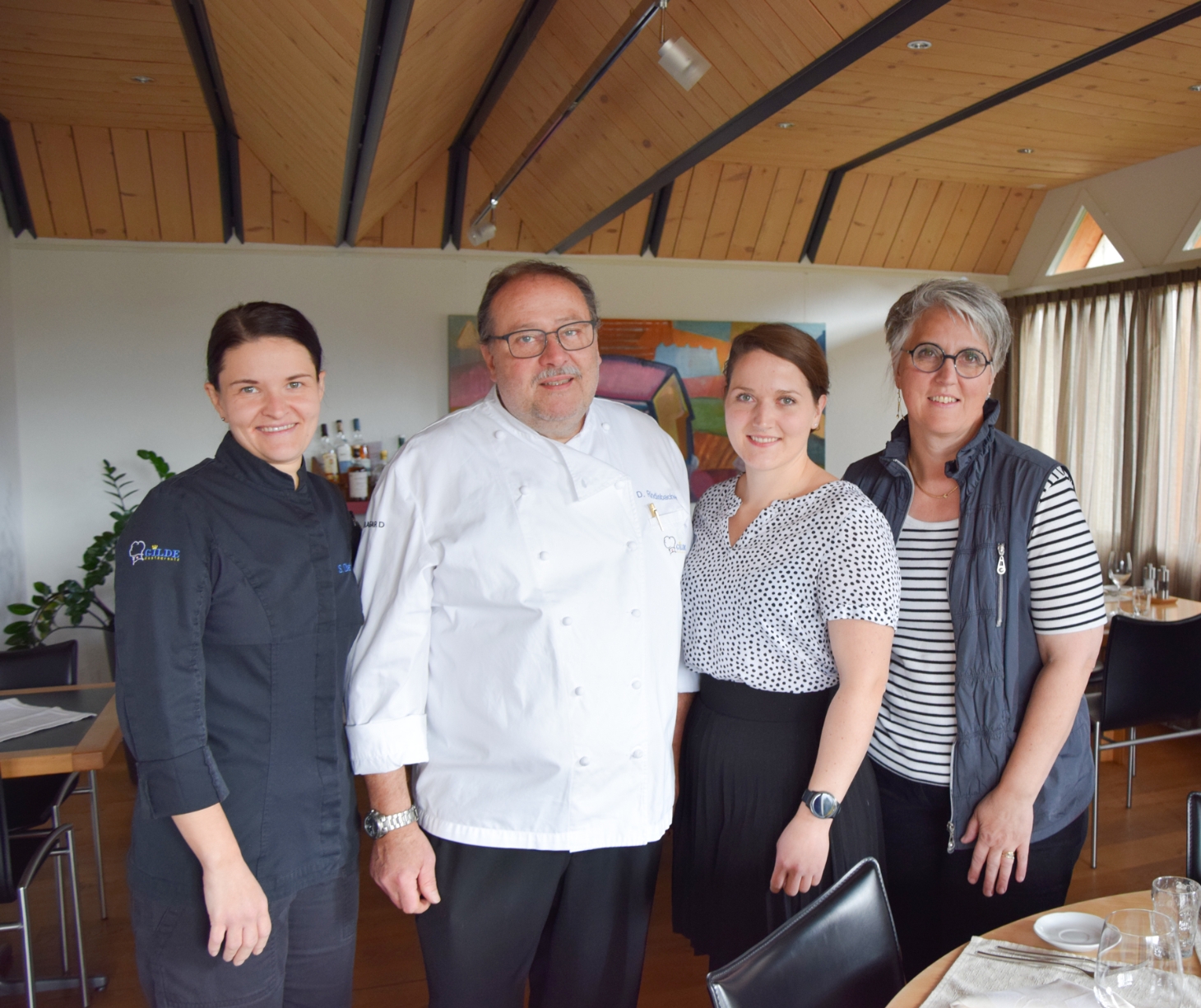 Tajarin Danieli with giant shrimps
Tajarin Danieli with giant shrimps from Daniel Rindisbacher from the Restaurant Panorama in Aeschiried.
Recipe for 4 people
20 pcs. Giant shrimps size 16/20
400 g tajarin
12 pcs. Garlic cloves
4 pcs. shallots
2 small spoon Sambal Oelek
Fresh peterli, chives, thyme all chopped
salt, pepper
Worchester, soy sauce, paprika
Lemon juice
cornflour
olive oil
6 dl tomato sauce
Preparation
Marinate the shrimps with Worchester, soy sauce, salt, bell pepper, paprika and some lemon juice. Add 2 small spoon cornflour and mix well.
Slice garlic cloves chop shallots and sauté garlic and shallots in 4 tbsp olive oil until golden.
Add 2 small spoon Sambal Oelek and deglaze with the tomato sauce.
Simmer for about 4-5 minutes.
Cook the tajarin in plenty of salted water for about 3 minutes al dente.
At the same time, fry the shrimps with olive oil in a frying pan until crispy.
Drain the cooked tajarin and add it to the ready seasoned sauce, add the chopped herbs and mix well.
Form the pasta into a spiral with a meat fork, place it in the preheated plate and arrange the shrimps on top. Garnish with a beautiful bouquet of rosemary and herbs.
Enjoy your meal! The Tajarin as well as the ready Danieli sauce can be bought at Panorama.
The Restaurant Panorama in Aeschiried serves the Pian di Nova IGT from Il Borro to go with the Tajarin Danieli with giant shrimps.
Tasting note
Medium ruby red. Full-bodied fruity aromas of blackberry and a hint of liquorice and vanilla in the nose. Soft and smooth on the palate with lively fruit and exotic spice notes. This is how an everyday Super Tuscan tastes.