Restaurant Brücke, Niedergösgen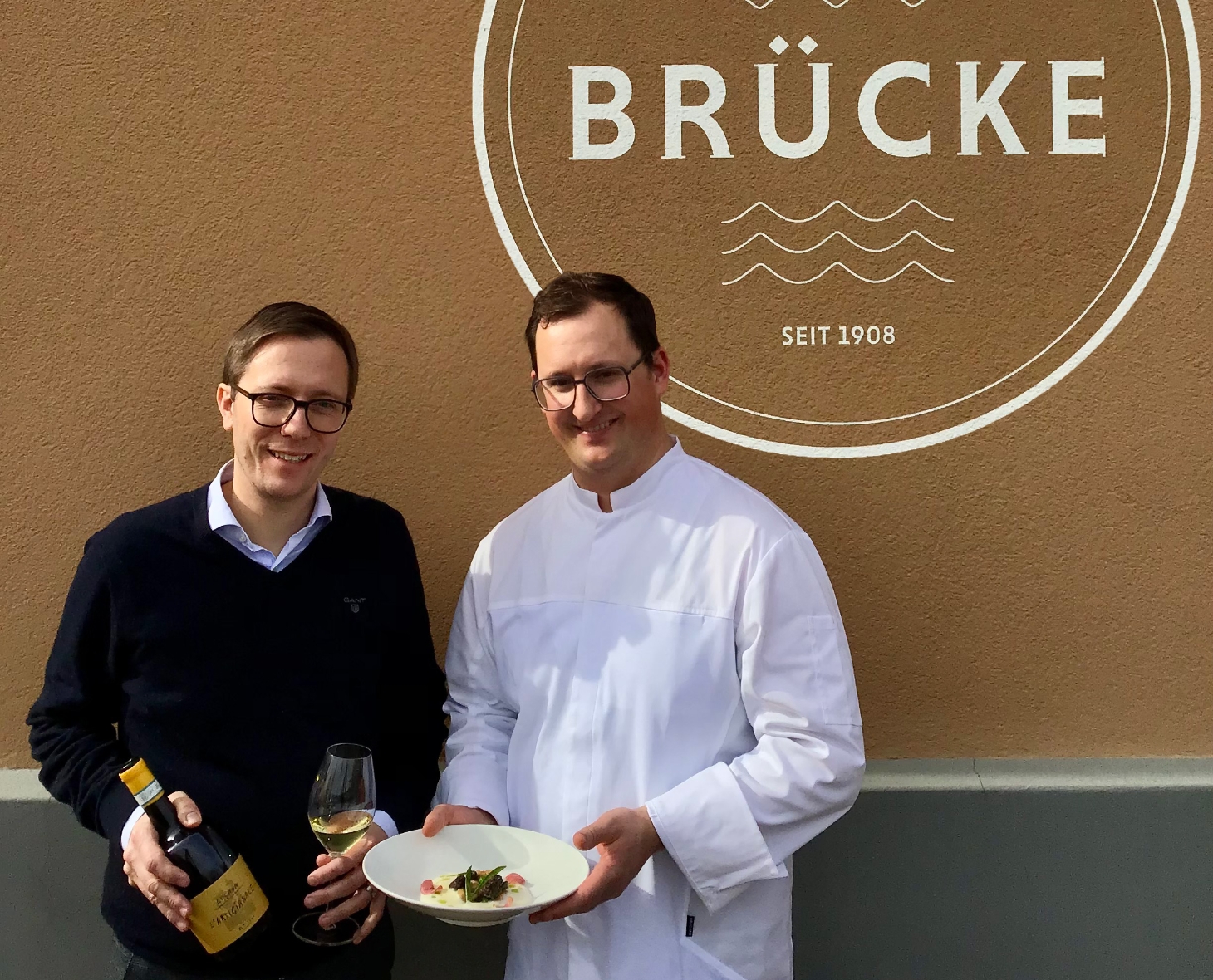 Veal milks with spring heralds and espuma
A recipe by Thomas Messerli Chef de cuisine from Restaurant Brücke in Niedergösgen
Potato Espuma for 4 to 6 people
250 g May King potatoes
400 g cold water
1.25 cl full cream
salt and nutmeg
Wash and peel the potatoes. Put the peeled potatoes in a dish with cold water so that they do not turn brown.
Cut the potatoes into equal pieces of about 2 x 2 cm. Boil the cubes in cold salted water.
Boil the potatoes until they are soft and then add the full cream to the potatoes.
Finely mix the mass and season again. Pass the whole mass through a fine sieve and pour into a cream blender and keep it warm at max. 55°C.
Milks
Approx. 50 g raw milk per person
Remove the skin from the milt and sauté in olive oil with shallots brunoise.
Add fresh butter and deglaze with some veal stock and veal jus.
Reduce everything until it is glossy. Season with salt, pepper and chiffonade of wild garlic.
Vegetables
A handful of freshly cooked peas
Sauté morels with shallots and butter
Wild green asparagus grilled or roasted
Sideboard Tip
Arrange the peas with the morels and milk in the center of the plate on the preheated plate, and arrange the asparagus.
Carefully drizzle the potato espuma all around.
Garnish with a few chips and herb oil (wild garlic).
To match the milks serviert the Restaurant Brücke in Niedergösgen serves the Lugana L'Artigianale DOC from El Citera from Veneto.
Tasting note
L'Artigianale glows a pale yellow with greenish reflections. Delicate aromas of fruit on the nose with apple and lemon, as well as mineral notes. The wine reveals its full characte ristics on the palate: crisp acidity, extensive complexity and minerality, followed by a long- lingering finish.