Restaurant L'Auberge du Château, Nyon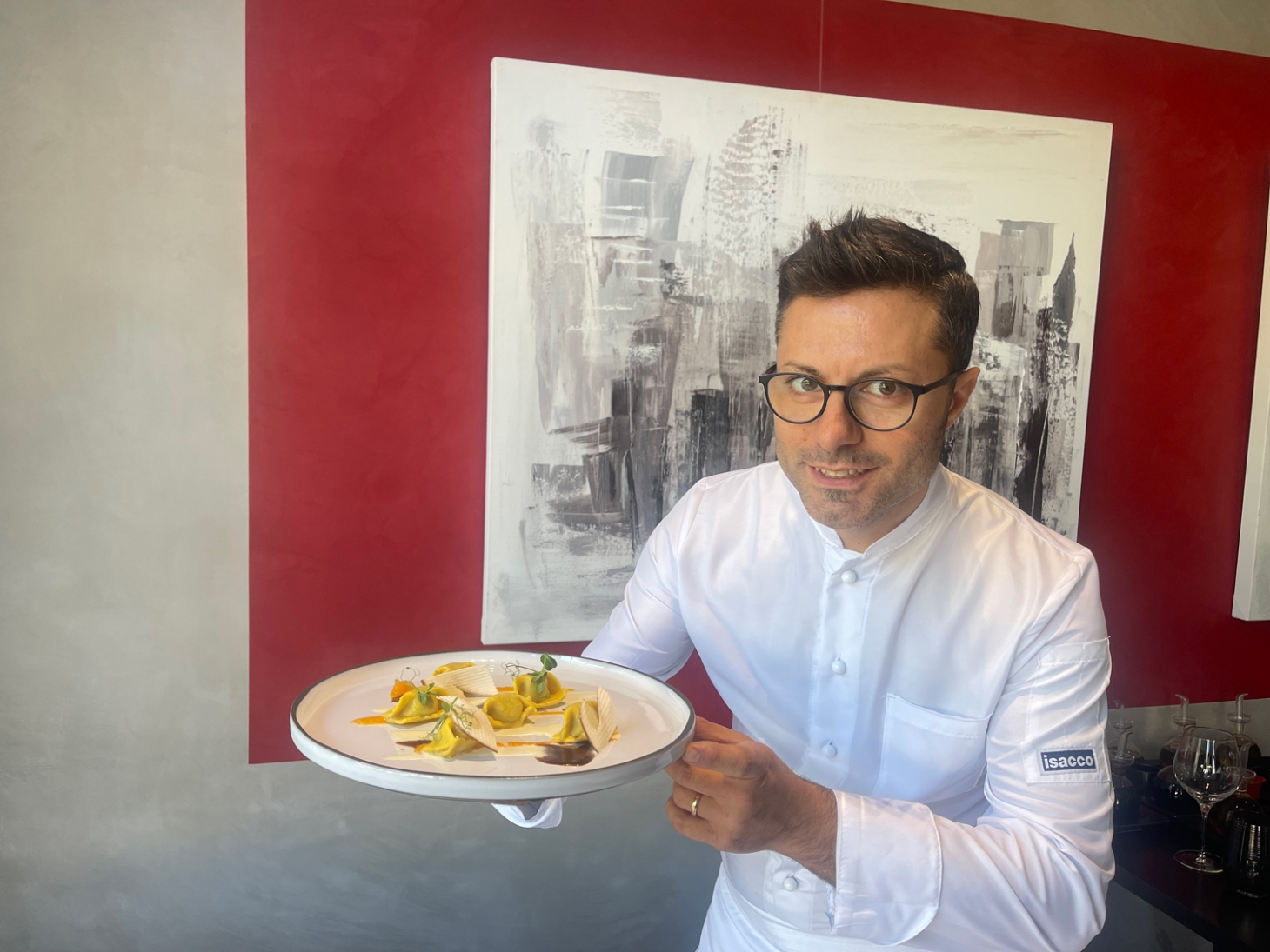 Ravioli al Plin
Ravioli al Plin from the restaurant L'Aubgerge du Château in Nyon.
Recipe for 10 people


For the filling
1 kg venison shoulder
200 g carrots
200 g onions
100 g celery
red wine
salt and pepper
cinnamon, juniper berries, bay leaf and thyme
Grated Parmesan cheese
Piedmont hazelnuts
For the dough
1 kg flour tipo 00
10 eggs
4 egg yolks
Salt and oil
Preparation filling
Cut the vegetables into mirepoix and sweat them in a pan with high sides. In the meantime, cut the shoulder of venison into pieces and add them to the mirepoix. Season with salt and pepper.
Pour plenty of red wine, let it evaporate and finally cover with broth. Add spices and simmer for 3 hours.
Let cool and then mince the meat again with a thin knife to obtain a filling.
Add the Parmesan cheese and the hazelnuts.
Preparation of the dough
Mix flour and eggs in a bowl and knead for about 15 minutes until the dough is smooth. Set aside in a cool place.
Finishing
With the dough and the filling, prepare the ravioli. This is most easily done with a mold or by hand. Cook the ravioli in salted water, drain well and serve with game juice and sliced porcini mushrooms.

Enjoy your meal!

To go with the Ravioli al Plin, the restaurant serves L'Aubgerge du Château the Cannonau di Sardegna DOC from Silvio Carta.
Our tasting note
An intense ruby red colour in the glass with garnet red highlights. On the nose, a splendid fragrance of ripe red fruits, such as raspberries and cherries. On the palate, balsamic notes and aromas of myrtle and juniper. Very well-structured and an extremely succulent after-taste.