Deltetto
,
Canale (Piedmont)
Gift set Deltetto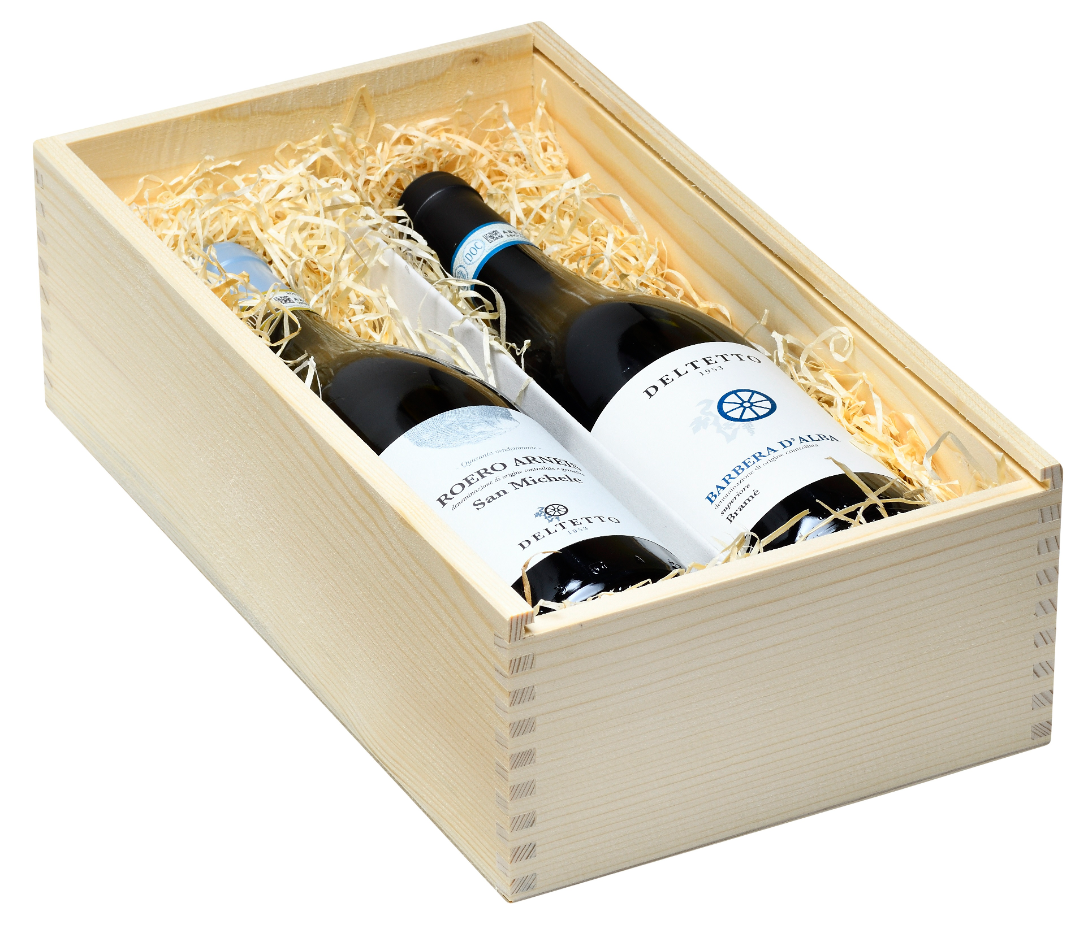 Description
This gift contains two bottles of 75 cl, packed in a noble wooden box.
Deltetto
The personable and unassuming Antonio Deltetto has many years of eventful experience under his belt. He and his son Carlo live with their families in Roero - where the Arneis white grape variety was very much in fashion recently, with it`s playful fruitiness. Antonio rolled up his fathers business from a commercial wine cellar into a pure wine producer/grower operation. In the meantime, the vineyard stretches over 21 hectares of land. The focus lies with the white superstar Arneis of course, but the red wines too show the Deltettos healthy ambition and skill.

Deltetto
,
Canale (Piedmont)
Barbera d'Alba Bramé DOC
Winemaking
The Barbera Bramé originates from an old Cru vineyard in the parish of Castellinaldo, which faces in a south- westerly direction. Following the traditional fermentation for 7 days at 28 °C, the wine matures in used barriques - which makes up 20 percent - and otherwise in large oak barrels.
Our tasting note
The Barbera Bramé captures the imagination with its rich ruby-red colour and violet reflection. It has an aroma typical for this type of wine, an aroma of cherries and vanilla. On the palate it is structured and pleasantly fresh in taste. A vine that produced soft and juicy grapes with a remarkable richness.

Deltetto
,
Canale (Piedmont)
Arneis Roero San Michele DOCG
Winemaking
San Michele is the Deltetto flagship when it comes to white wines. One half of fermentation takes place in steel tanks and the other in wooden oak barrels. The subsequent maturing is carried out in the exact same way.
Our tasting note
The Arneis San Michele has a straw-yellow colour and flavours of exotic fruits, apples as well as a hint of vanilla resulting from the maturing in wooden barrels. The maturing in wood barrels also subtly gives the Arneis a wide spectrum of flavours and a greater depth of taste.