Elena Walch
,
Tramin
Elena Walch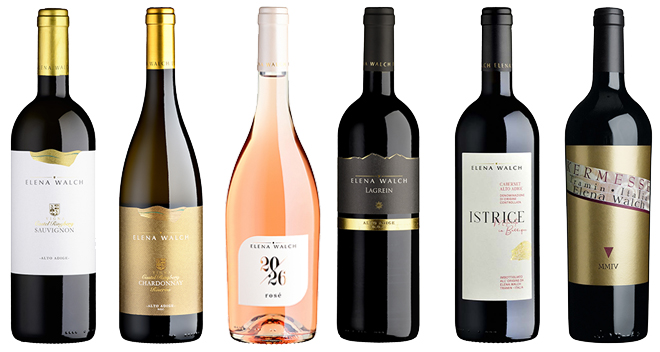 Description
This tasting box contains one bottle per wine.
Elena Walch
Elena Walch is a leading vineyard in South Tyrol under family proprietorship. Encouraging quality and innovation, Elena Walch stood at the head of the quality revolution in South Tyrol and has gained local and international esteem for her efforts. The great assets of Elena Walch are the two vineyards Vigna Castel Ringberg above Kalterer See, and Vigna Kastelaz above Tramin. All wines bear the clear signature of their producer and delight with their purity of taste, elegance and finesse. Elena Walch, formerly a successful architect, al so understands her current profession brilliantly. Responsibility for the family company has now been placed in the hands of daughters Julia and Karoline Walch, as the fifth generation of the family.

Elena Walch
,
Tramin (South Tyrol)
Cabernet Istrice Alto Adige DOC
Winemaking
Traditional fermentation over 10 days in the steel tanks, followed by biological acid degradation in wooden barrels. Bottling and long maturing in bottles following 12 months in French barriques.
Our tasting note
The Cabernet Istrice has a gleaming garnet-red colour. A seductively tangy nose with coffee note and a light smoked aroma, refreshingly fruity with wild berries and black berries. The wine has a strong structure, subtle tannins and a fruity-tangy richness. The finish is long and juicy.

Elena Walch
,
Tramin (South Tyrol)
Lagrein Alto Adige DOC
Winemaking
Traditional fermentation is carried out over 10 days at a controlled temperature in steel tanks. Subsequently, the biological acid degradation and maturing in large wooden barrels made of French oak.
Our tasting note
The Lagrein has an intensive, concentrated garnet-red colour. The multi-faceted bouquet seduces the drinker with subtle herbal aromas, wild berries and sweet cherry in the background. It has distinctive tannins, smooth richness, a playful, rustic elegance and a youthful freshness as well as a juicy, long finish.

Elena Walch
,
Tramin (South Tyrol)
Rosé 20/26 IGT
Winemaking
The grapes are harvested with a sugar gradation of 20°. The three grape varieties are processed together from the beginning. The classic «saignée» method is used: The must remain in contact with the mash for a short time. The subsequent fermentation takes place in steel tanks at a controlled temperature of 26°C. Incidentally: The sugar gradation and the fermentation temperature give the wine its name.
Our tasting note
The latest creation from the house of Elena Walch shines in a charming salmon pink. Open-hearted nose of raspberries and strawberries accompanied by a fine citrus note. On the palate, it delights with liveliness, freshness, great balance and a wonderful drinking flow. Excellent as an inviting aperitif, but also with light starters and main courses.

Elena Walch
,
Tramin (South Tyrol)
Kermesse Vdt
Winemaking
The different vines are harvested at the same time and processed all together. Only the Cabernet Sauvignon, which matures later, is fermented separately. Fermentation is carried out over roughly 10 days in steel tanks, acid degradation subsequently takes place in wooden barrels. The wine matures for 18 months in barriques made from French oak. Long maturing in bottles before being sold.
Our tasting note
This cuvée is characterised by its strong and intensive crimson colour and has a multi-faceted bouquet. It is tangy with a light smoky note, fruity with a hint of berries and dried figs. The Kermesse is strong, elegant and harmonious with well integrated tannins, subtle smoked aromas and has a tangy richness. This rarity, rich in finesse and character has large potential for maturing.

Elena Walch
,
Tramin (South Tyrol)
Sauvignon Castel Ringberg DOC
Winemaking
Part of the grapes is fermented after the soft pressing and static decantation in a steel tank at a controlled temperature of roughly 18 °C. 15 percent of the wine is fermented in French Allier oak barriques followed by a malolactic fermentation process. The wine is assembled in the spring.
Our tasting note
This Sauvignon Castel Ringberg has a dense, strong straw- yellow colour. Fruity aromas of gooseberries and papaya and floral notes of elderflower dominate the bouquet. Wonderfully harmonious on the palate with pleasant freshness, an invigorating structure, elegant richness and juicy mineral finish.

Elena Walch
,
Tramin (South Tyrol)
Chardonnay Riserva DOC
Winemaking
Late harvest, soft pressing and static clarification. Fermentation takes place exclusively in Allier barriques. Once this process is complete, the lees are stirred once weekly for three months. The wine is aged for ten months in barriques on the fine lees, followed by a longer period of bottle ageing. The wine is only available for purchase two years after the harvest.
Our tasting note
Chardonnay Riserva Vigna "Castel Ringberg" exhibits a fresh golden yellow and delivers a bouquet characterised by a variety of aromas: Dense and complex with exotic fruits including papaya, spicy with roasted almonds, and with a hint of dandelion honey. The wine impresses on the palate with a unique interplay of freshness and power, an elegant structure, a juicy, mineral vein paired with creamy richness, plenty of harmony and a long, refreshing finish.