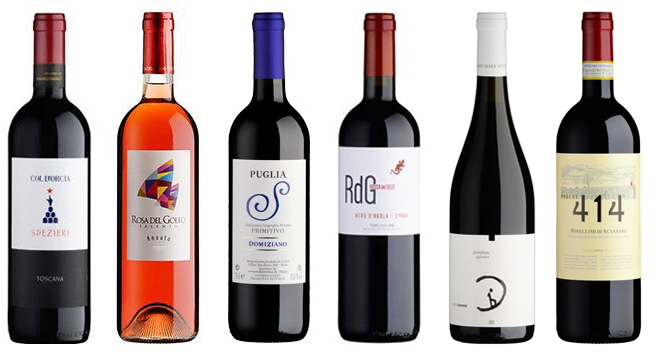 Description
This tasting box contains two bottles per wine.
Rocca del Geco
,
Marsala (Sicily)
Nero d'Avola Syrah DOP
Winemaking
Both types of grape are fermented individually over roughly 8 days at a temperature between 24 and 26 °C in stainless steel tanks. The wine is aged for 3 months and the grape must is then assembled in used French and American barriques.
Our tasting note
Dark ruby-red colour with a cherry and blackberry aromas and a hint of white pepper. Very intensive and close to the pallet, soft, perfectly incorporated tannins with a juicy and tangy finish.

Podere 414
,
Magliano (Tuscany)
Morellino di Scansano DOCG
Winemaking
The time needed for fermentation is between 15 and 20 days at a temperature of 28 °C. 75 percent of the maturing takes place in barriques accommodating 225 litres and 25 percent in so-called «Tonnaux» which accommodate 500 litres.
Our tasting note
Intense, rich ruby red. Ripe aromas of black cherries and blackberries on the palate. Full and powerful beginning on the palate, with pleasant spiciness and delicate vanilla notes. A smooth, lingering finish.

Cantine Barone
,
Rutino (Campania)
Aglianico Pietralena DOC
Winemaking
The Aglianico Pietralena was produced for the first time in 2004. Following 2 months of contact with yeast, the Aglianico is aged for 18 months in 225-litre barriques and in 500-litre oak barrels, followed by 12 to 15 months of maturing in bottles.
Our tasting note
The Aglianico grape, together with Nebbiolo and Sangiovese, are among the most very finest red-wine grapes in Italy. The Aglianico Pietralena has an intensive, ruby-red colour. It has a fruity nose of black cherries, blackberries as well as plums. Intense on the palate with flavours of rosemary, leather and myrtle, with a robust finish that lasts.

Cantine Rosa del Golfo
,
Alezio (Apulia)
Rosa del Golfo Salento IGP
Winemaking
Vinification takes place in accordance with the Saignée method. The high quality grapes are harvested by hand between mid-September and mid-October, and originate from selected vineyards in Sannicola, Parabita, Alezio, Campi Salentino and Veglie. Subsequent fermentation and ageing in cool conditions in a steel tank for 6 months.
Our tasting note
Rosa del Golfo is a fresh-fruity and racy rosé wine with a raspberry fragrance, without any of the southern heaviness. Its delicate aroma and racy character make it the perfect summer wine. The ideal accompaniment to appetizers, seafood, fish soup and poultry. It also surprises us every time when paired with Asian cuisine.

Domiziano
,
Cellino San Marco (Apulia)
Primitivo Puglia IGP
Winemaking
Fermentation takes place over 8 days at 20 °C in horizontal rotation tanks made of stainless steel. The wine matures over 6 months in barriques, followed by a short maturing period in bottles.
Our tasting note
The Primitivo has a deep and concentrated colour. It has an intensive aroma of cherries, a hint of chocolate as well as a note of spices characterise this bouquet. Intensive fruitiness on the pallet, very smooth and soft with an elegant richness - pure drinking pleasure.

Col d'Orcia
,
Montalcino (Tuscany)
Spezieri IGT
Winemaking
Temperature-controlled fermentation over 8 to 10 days at over 26°C in order to preserve the intensive and characteristic fruit aroma. Following a short ageing in stainless steel tanks, the wine is quickly bottled in order to maintain its excellent freshness.
Our tasting note
The Spezieri is a wonderful, care-free Tuscan blend. It is a carefully composed assembly of Tuscan vines. The wine has a strong crimson colour in the glass and instantaneously invokes the thought of a bouquet of fruity aromas of ripe cherries and wild berries. Very agreeable, soft and straightforward on the palate. Soft, juicy tannins and a pleasant freshness make their contribution to a wonderful wine for any time.